| | | |
| --- | --- | --- |
| | | |
| | | |
| | | |
Yesterday five members from Local 1491 joined hundreds of other firefighters from across New England in the Fight For Air Climb fundraising event climbing 41 stories in full firefighting gear. The event was sponsored by the American Lung Association and was held to raise money for lung disease. Read More...
Download:

10013279_761963988036_1083193659042973863_n.jpg
This week members of C and D group trained in Ice Rescue techniques and procedures. This drill involved the use of the Mustang Ice Rescue suits and simulated the rescue of a person that fell through ice. Read More...
Please join us in celebrating the retirement of FF. Robert O'Keefe and Capt. Michael Fulton on Saturday October 18th, 2014. The celebration will be held at Heritage Hall, 177 Bedford Street Lexington MA. Tickets available at Lexington Fire Headquarters or by contacting aidandrelief@lexfire.org.
Cocktail Hour begins at 6pm followed by dinner at 7pm!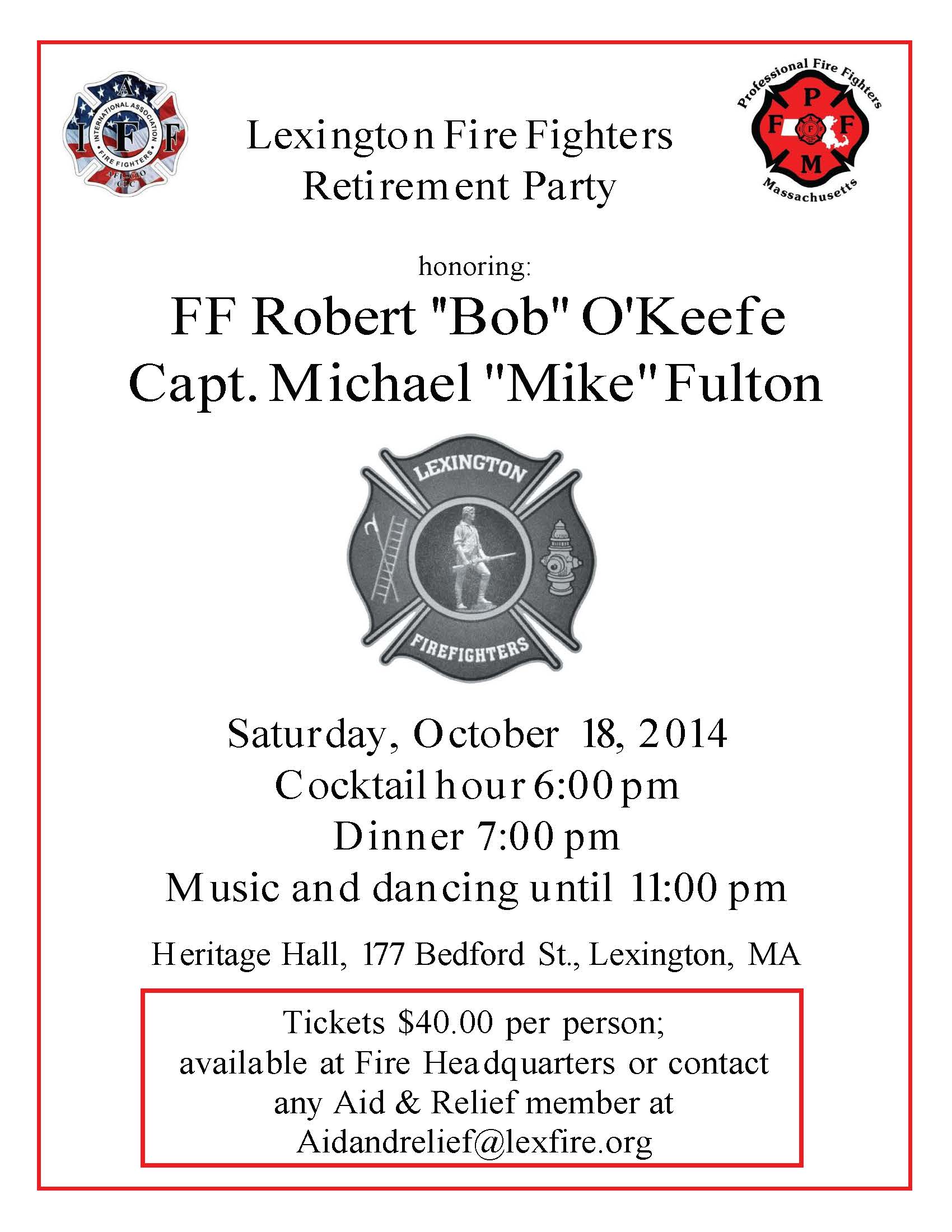 Download:

Lex Fire Fighters retirement dinner 2014.pdf
LFD Promotions/Swearing in. At 1600 hours on August 27th, 2014 Lexington FD had a swearing in ceremony. Lieutenant Don Chisolm was promoted to the rank of Captain, Firefighter Guy Monaco was promoted to Lieutenant, and Firefighter Chris Abisla was sworn into the department. Read More...
Download:

8-27-14 ,

Swearing In 047.JPG
Massachusetts Public Pensions Stingiest in the Country!! By Alicia H. Munnell Talk to business people in downtown Boston about Massachusetts' public pensions and they will go on endlessly about how expensive these plans are and how they should be reformed. Truth be told, these plans have been reformed to death and now are the cheapest in the nation. Read More...
On Friday June 13th, 2014 Firefighters Ryan Fedel and Chris Lively graduated the Massachusetts Firefighting Academy Recruit program. They were members of class 213 and Chris Lively was top of the class. Here they are pictured with Chief Wilson. Photo by Lt. Read More...
Download:

Chief Ryan Chris 3.jpg
On January 22nd, 2014 during an early morning snowstorm the crew of Engine 1 and Medic 1 delivered a healthy baby girl. Today the Leung family came to the firehouse with baby Melissa to visit. Here the family is pictured with the crew, Lt./Paramedic Scott Morency, FF/EMT Todd Duggan, Firefighter. Read More...
Download:

IMG_1244.JPG
Support for Local 1347
The Union Meeting scheduled for January 13th has been rescheduled to January 27th. The purpose for the reschedule is for Local 1491 to support our brothers and sisters of Watertown Local 1347.
All members are urged to show in support in Watertown on Tuesday the 13th at 5:45 PM.
Local 1347 followed all the rules of arbitration and the Town council has boldly shot down the decision.
ALL MEMBERS OF LOCAL 1491 ARE ENCOURAGED TO PARTICIPATE. DRESS FOR THE EVENT IS UNION CLOTHING AND HELMETS.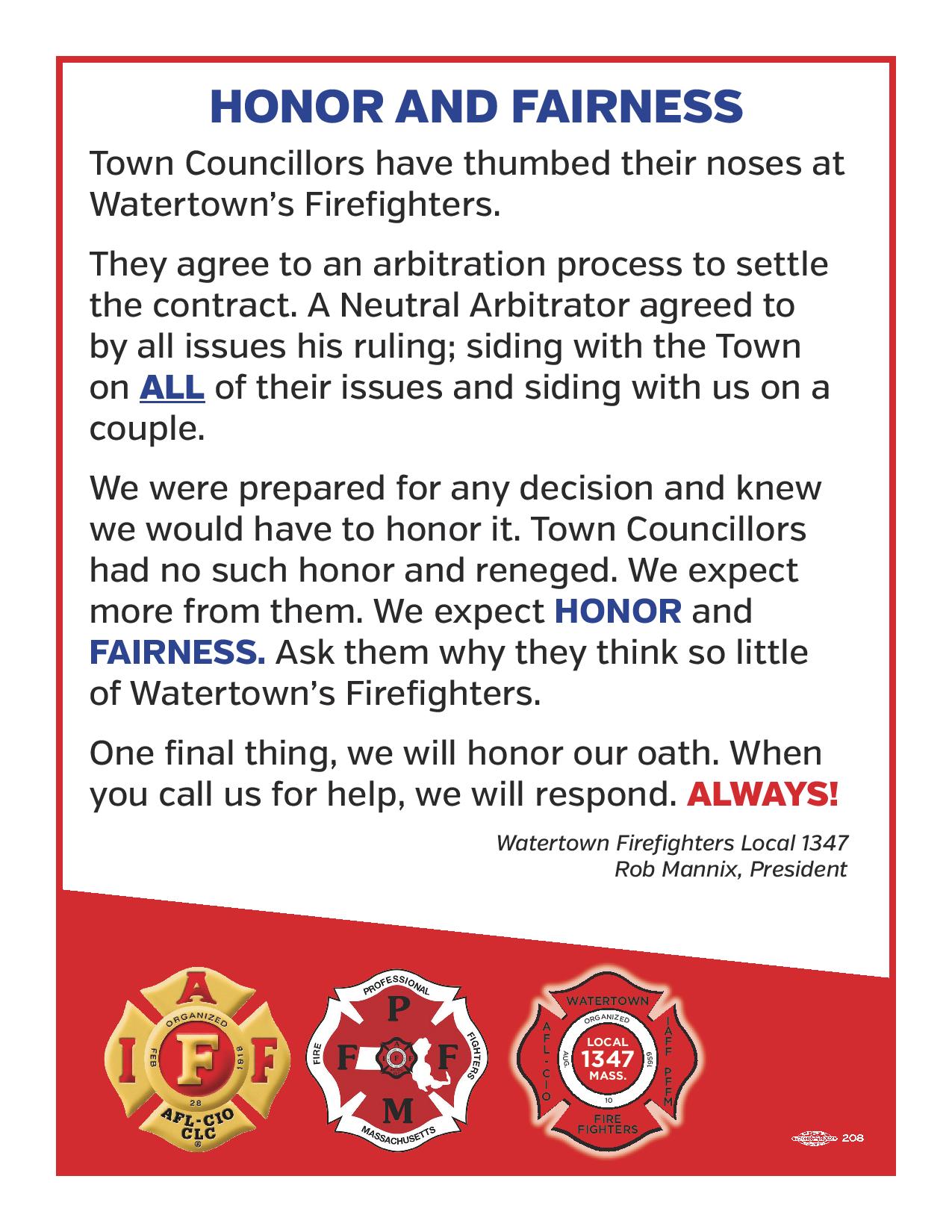 Action Center

Tribute to Firefighters

This is a short video tribute to FDNY firefighters and all firefighters really that is something else. If yo haven't seen it check it out!